Sometimes we need something fast and with all the right macros!
We bring you the perfect all-in-one meal for those times you are in a hurry and as hungry as a bear!
Plus, this makes up to 3-4 servings, so you can take the leftovers with you to the gym for a post-workout refill!
INGREDIENTS
6 Large Eggs (Whole)
6 Large Egg (Whites only)
5oz Smoked Salmon (Sliced)
1/2 cup Kale (washed, cut)
8 Mushrooms (Sliced)
1/4 cup Sun-dried Tomatoes (cut)
1 Sweet Potato (baked, cold, and cubed)
Salt and Pepper (to taste)
Olive or Coconut oil (for the pan)
DIRECTIONS
Preheat oven to 430-450ºF
Mix whole eggs and whites in a bowl, mix well, and add spices to taste
Drizzle the pan with the oil of your choice and heat it on medium
Add the Kale, Mushrooms, and Sun dried tomatoes to the pan; stir and sauté
Add the Sweet potato cubes and mix
Pour in the egg mix and add the sliced smoked salmon on top
Let it cook until the edges set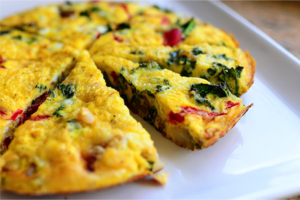 Transfer the pan to the oven and let it cook until the center sets

Make sure to check every 5 minutes so it does not burn.
It should take 10-15 minutes to fully cook.

Remove pan from the oven using proper mittens and set aside for 5 minutes
Slice, serve, and enjoy! 🙂