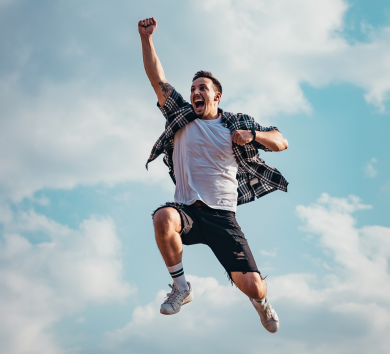 CoQ10 helps produce a huge percentage of energy needed by our cells! This is because CoQ10 is a vital part of the Electron Transport Chain in the mitochondria (the powerhouse of the cell).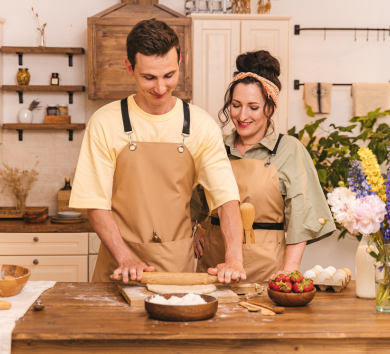 CoQ10 isn't just about energy. It may also protect cells, proteins, and DNA against oxidative damage. Plus, it stimulates the production of glutathione and other endogenous antioxidants.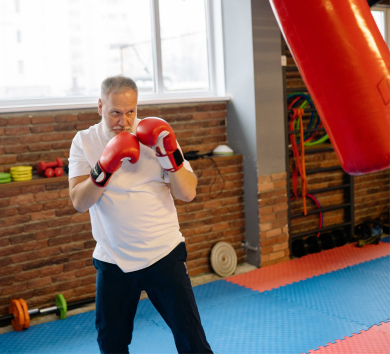 CoQ10 is also known as a 'heart defense' nutrient. It helps improve blood flow to the heart and thus may contribute to heart health, including preventing adverse cardiac events!

Enhanced Absorption
CoQ10 is fat-soluble, so naturally, we paired it with MCT oil to help with absorption.

Suggested Dosage
Take 1 softgel daily, ideally with fat-containing food during breakfast or lunch.

Quality Control
This supplement is manufactured at an NSF GMP-certified facility in the United States.

Fair Return Policy
If you don't love our product, return it for a refund within 30 days (conditions apply).
Coenzyme Q10 (CoQ10) is a ubiquitous compound found in virtually all human cells, specifically in the mitochondria, where energy is produced.
The body makes CoQ10 naturally. But factors like aging, stress, pollution, and cholesterol-lowering drugs slow CoQ10 production.
Fortunately, supplementing with CoQ10 may help maintain adequate levels in the body!
Studies show that taking CoQ10 may help with:
+ Energy levels*
+ Heart health*
+ Cognitive function*
+ Immune health*
+ Reduced inflammation*
+ Fertility*
+ And more!*
Let our CoQ10 Ubiquinone help restore your health and energy, and continue to enjoy life!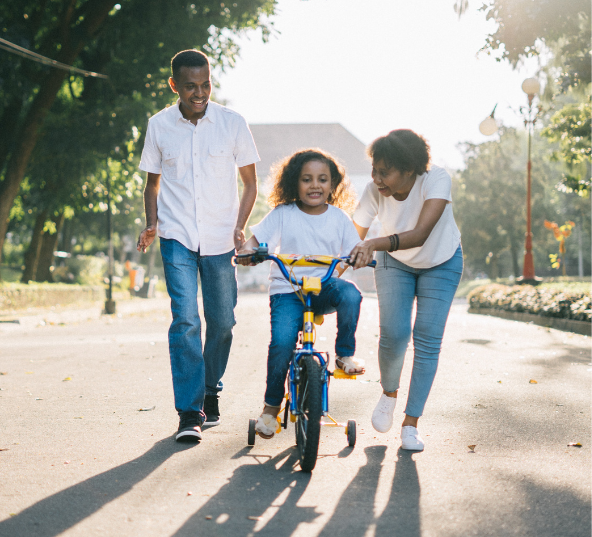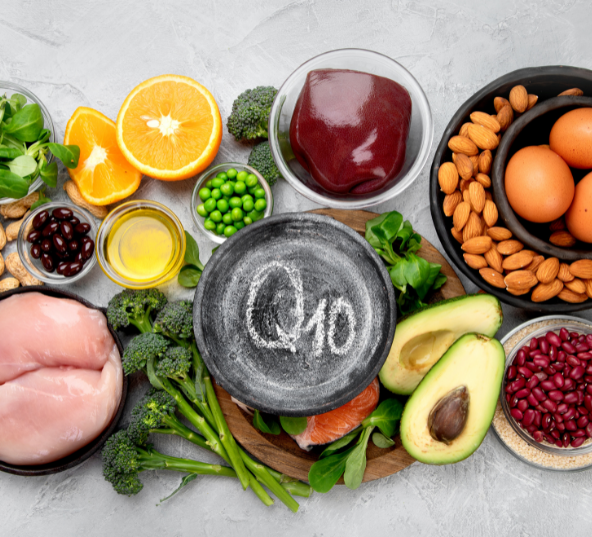 Our CoQ10 Ubiquinone Advantage
There are two forms of CoQ10 – Ubiquinone and Ubiquinol.
Ubiquinone is the stable and most studied form of CoQ10. Most of the reported health benefits of CoQ10 are from clinical studies on Ubiquinone, not Ubiquinol.
Ubiquinol is the active but unstable form of the nutrient. It's also patented and, therefore, more expensive to produce. But the higher price tag doesn't automatically mean it's better than Ubiquinone.
In fact, it doesn't matter if you take Ubiquinone or Ubiquinol. They are both highly bioavailable. The body continuously converts CoQ10 into either form, depending on the biochemical reaction that requires it.
Choosing our CoQ10 Ubiquinone means you get to enjoy all the benefits of this vital nutrient – at a fraction of the cost!*
CoQ10 in Bioavailable Softgels
CoQ10 is sold in various delivery formats, including softgels, gummies, capsules, tablets, syrups, and powder.
But what is the most effective and bioavailable form?
According to studies, softgels win by a significant margin over other forms!
Now you know that when you take our CoQ10 Ubiquinone softgels, your body will absorb and use them.
In short, our softgels can help you take advantage of all the science-backed benefits of CoQ10!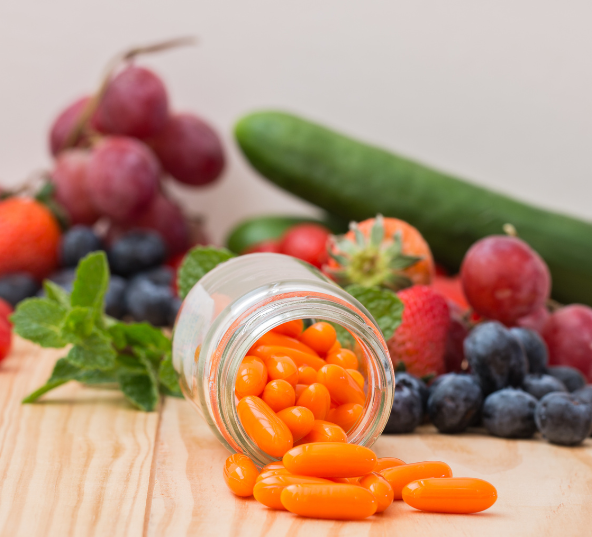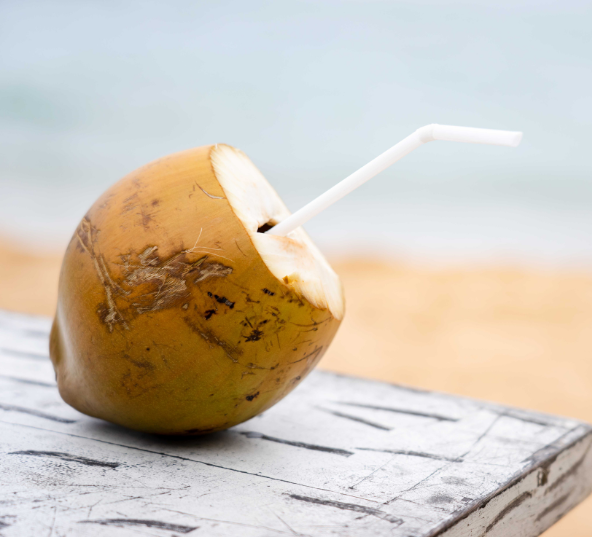 With MCT Oil For Max Absorption
CoQ10 is a fat-soluble nutrient.
Adding coconut-derived MCT Oil (medium chain triglycerides) to our supplement provides high-quality fats to help improve the absorption of this energy-boosting nutrient!
Other brands may use palm oil, sunflower oil, or soybean oil, which are potentially inflammatory. MCT Oil is a much healthier option!
At Intelligent Labs, we use high-quality ingredients to make the best CoQ10 supplement on the market! We don't use fillers, artificial flavors, additives, or preservatives on our health products. This supplement is manufactured at an NSF GMP-certified facility in the United States. We have 3rd party, independent lab testing reports available, which show our supplement is exactly as described.






NO CHEMICAL PRESERVATIVES




Serving size: 1 Softgel
Servings per Container: 120
Ingredients: 200 mg Coenzyme Q10 (Ubiquinone)
Other ingredients: MCT Oil (Medium Chain Triglycerides), Gelatin (Bovine), Vegetable Glycerin, Purified Water, Annatto Extract (Color)
This Product Contains No: Soy, Sugar, Gluten, Wheat, Eggs, Salt, Magnesium Stearate, Artificial Flavors or Preservatives.
CAUTION: Consult your physician if you are taking medications, or have any medical condition.
Keep out of reach of children. Do not use if seal is damaged or missing. Please do not eat the enclosed packet. Store in a cool and dry place. Avoid excessive heat. Tighten cap when not in use.
FREQUENTLY ASKED
QUESTIONS
Who should take our CoQ10 Ubiquinone?
Our CoQ10 may help if you're not getting enough of this important nutrient from your diet.
Also, CoQ10 production in the body naturally declines with age, so older adults may benefit from taking this supplement as well.
Moreover, people with certain conditions that reduce CoQ10 levels, such as those with heart issues and high blood pressure, may benefit from supplementation, too.
Note: Please speak with your doctor before taking CoQ10 or any other supplement.
What's the recommended dosage?
We suggest taking 1 softgel daily. This is equivalent to 200 mg of CoQ10 Ubiquinone.
Is it safe to take more than 1 softgel a day?
CoQ10 has an excellent safety profile and taking more than 200 mg daily should be fine for most people. In fact, some studies even used high doses (1000mg) in subjects, with relatively few side effects.
Do I need to take CoQ10 with meals?
Yes, please take your CoQ10 with meals, specifically with food that contains fat. This is because CoQ10 is a fat-soluble nutrient. While we added MCT oil to help with absorption, eating fat-containing foods will further maximize absorption rates.
I'm taking statins, can I also take your CoQ10 supplement?
Yes, CoQ10 supplementation is suggested for people who take statins, a type of cholesterol-lowering drugs. One of the side effects of statins is decreased CoQ10 levels. Fortunately, CoQ10 supplementation may help increase CoQ10 levels in the body.
How long before I see any results?
While we cannot guarantee results, studies show that CoQ10 users typically report positive health effects anywhere from a few weeks to a few months. Results may depend on current CoQ10 levels, age, health status, dosage taken, lifestyle, and other factors.
Is CoQ10 safe to take long-term?
Yes, CoQ10 is a safe supplement. Many long-term clinical studies reported no adverse health effects on subjects that took CoQ10 for years.
Note: Please consult your doctor regarding your personal CoQ10 dosage or how long you should take it for, especially if you're on medication or taking other supplements.
Who shouldn't take this product?
Those taking blood-thinning medication should refrain from supplementing with CoQ10 as it may increase the risk of blood clots. Also, older individuals who may not be physically able to convert Ubiquinone to the active form may consider taking CoQ10 Ubiquinol instead.
Any possible side effects?
CoQ10 is generally well tolerated with few reported side effects beyond slight stomach complaints.
Is your product vegan or vegetarian-friendly?
No, our CoQ10 softgels are made of bovine gelatin.

These statements have not been evaluated by the Food and Drug Administration. This product is not intended to diagnose, treat, cure, or prevent any disease