No one's going to stay young and fresh-faced forever. Getting old and wrinkled is inevitable, but that doesn't mean we cannot age gracefully. But did you know there's a not-so-secret weapon that can help slow down the effects of aging? If you didn't already know, it's collagen! But how much collagen powder should you take daily for optimal health and wellness? Scroll down to find out!  
How much collagen to take?
There's no official RDA or recommended daily allowance for collagen. But as you will see below, most studies use anywhere from 2.5g to 20g per day, with most showing no adverse effects at these doses.
The effective collagen amounts will depend on your reason for taking it in the first place. The doses listed below are taken from published studies on collagen and are meant to serve as a guide only. Please speak with your doctor before taking collagen, especially if you plan to take it with other supplements and/or medication.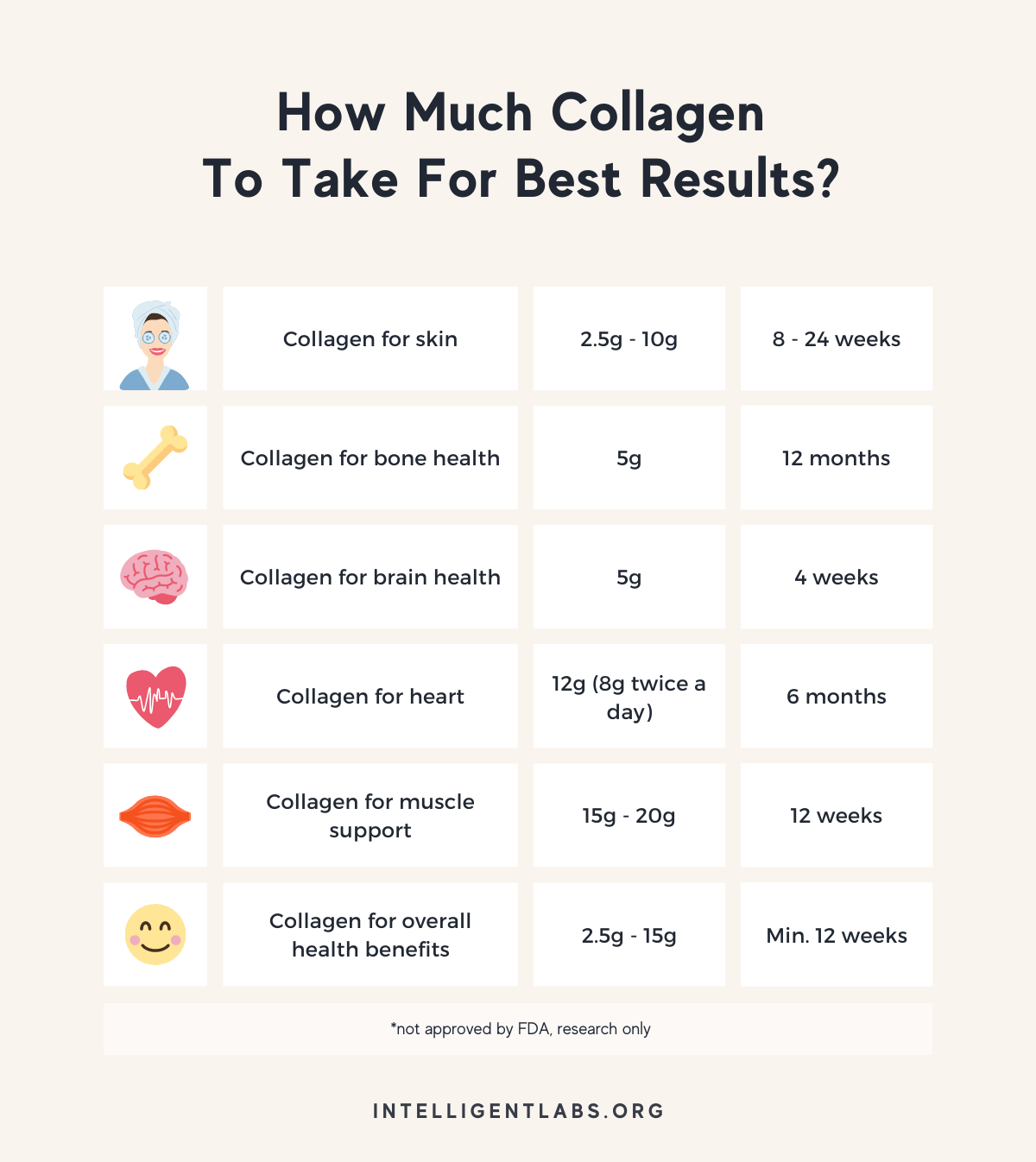 How much collagen to take for skincare?
A recent systematic review on collagen looked at 11 studies with a combined 805 patients (1). The researchers reported the following:
A daily dose of 2.5g to 10g for 8 to 24 weeks produced promising results for treating dry skin, skin aging, cellulite, and pressure ulcers.
For improving skin hydration and elasticity, a daily dose of 3g for 4 to 12 weeks proved effective.
How much collagen to take for bone health?
Bone loss is another side effect of aging. In general, women get the short end of the stick because they start losing bone density earlier and at a faster rate than men (2). But there's hope – collagen may help improve bone mineral density and bone markers in postmenopausal women.
According to a randomized controlled study published in the Nutrition Journal, 5g of daily collagen supplementation for 12 months resulted in increased bone mineral density, increased bone formation, and reduced bone degradation (3).
How much collagen to take for brain health?
Collagen is a promising biomaterial that can help manage injuries in the central nervous system. This is because collagen is versatile, biodegradable, and non-toxic (4). In one study, 30 healthy volunteers aged 49-63 years took a daily dose of 5g for 4 weeks. The researchers found significant improvements in the patients' brain structure and language cognitive function (5).
How much collagen to take for heart health?
Another internal organ that collagen intake can support is the heart. This was demonstrated in a small study where 30 healthy adults took 16g of collagen (taken twice daily at 8g each time). After 6 months, the researchers concluded that collagen helped prevent and treat atherosclerosis in the patients (6). If left untreated, atherosclerosis can directly lead to heart disease and stroke since this disease is characterized by narrowing of the arteries and the accumulation of plaque in the arteries (7).
How much collagen to take for muscle support?
We slowly lose muscle mass and muscle definition as we grow older. Fortunately, collagen supplements can help. In one study involving elderly men with sarcopenia (severe muscle loss), collagen supplementation (15g daily for 12 weeks) combined with resistance training 3 times a week helped improve the subjects' muscle mass and muscle strength. This approach also helped with loss in fat mass (8).
Another study that focused on the effects of collagen on strenuous exercise revealed that 20g daily (taken at least 7 days prior to muscle-damaging training) helps with muscle recovery (9).
How many grams of collagen should I take for overall health?
Collagen is found not just in the skin, bones, brain, heart, and muscles. It's also found in our tendons, ligaments, cornea, blood vessels, cartilage, eyes, hair, cell surfaces, and even the placenta (10). This is why collagen is also known as the "glue" that holds the body together. That said, a daily dosage of 2.5 to 15g seems to be an effective range for overall wellness (11).    
Should I take collagen every day? If so, should I take it morning or night?
In the studies we've quoted above, the subjects took collagen every day for several weeks, with the longest duration being 12 months. For long-term health benefits, make our Intelligent Labs Multi Collagen Powder a part of your daily healthcare routine! As for when to take collagen powder, e.g. morning or evening, it really doesn't matter as long as you take it within the day.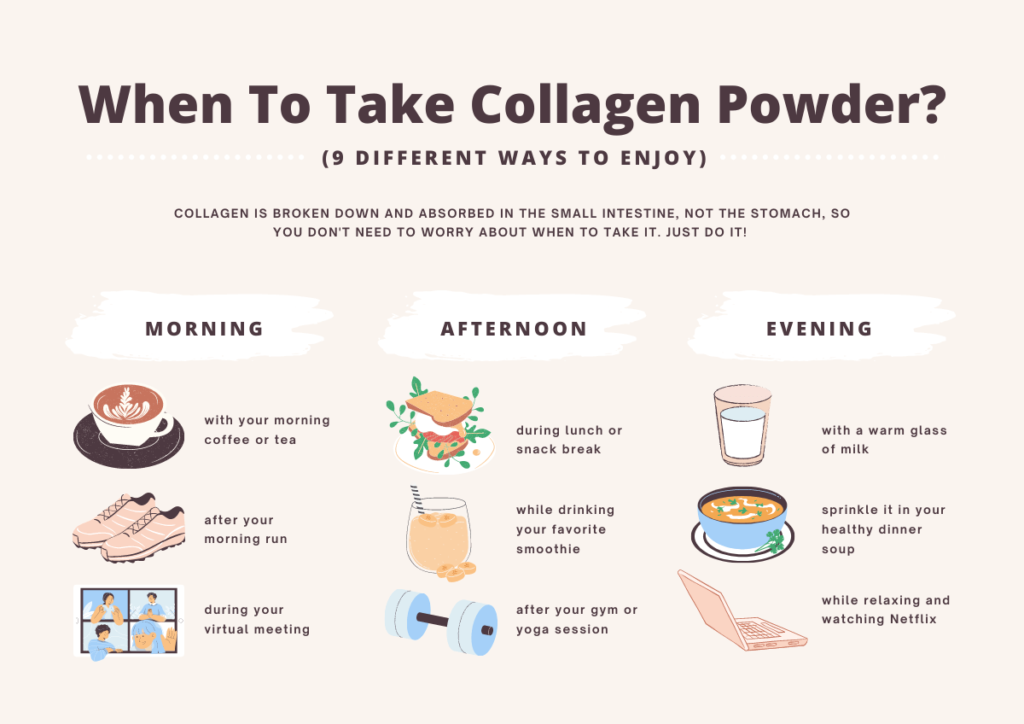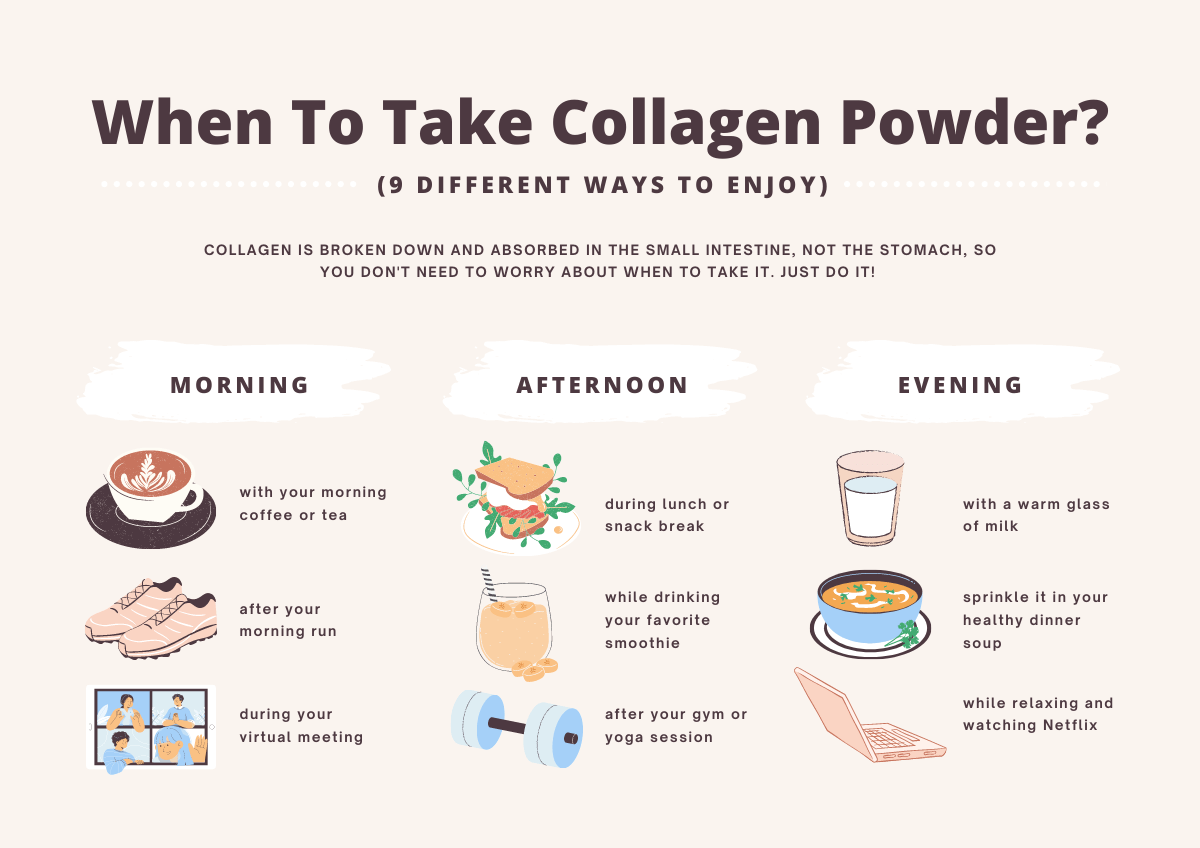 Still on the fence about taking collagen? Check out the many benefits of collagen supplements here.
What's the reason behind declining collagen production?
Aging is, of course, the number one culprit. But as you'll see below, there are other external factors as well…
1) It's a natural part of aging
Once you hit 20, collagen production naturally declines. Individual production rates may vary, but one study estimates collagen production to decline at about 1% per year (12). This might not sound alarming, but that 1% can add up! In fact, another study says that in one just one decade, skin can thin by a more stress-inducing 6.4% (13).
2) Forgetting to put on sun protection
Exposure to the sun's UV rays can boost the body's vitamin D production. But if you intend to go out for more than a few minutes, don't forget to apply sunscreen. This is because sunscreen is effective at protecting collagen and elastin fibers from sun damage (14). Consistently forgetting or ignoring the need for sun protection can accelerate the effects of aging. Worse, it increases your risk of getting skin cancer (15)!
3) Not getting enough vitamin C
It goes without saying that good nutrition is important for your health. But there's one vitamin that stands out when it comes to collagen – vitamin C! According to the European Food and Safety Authority, Vitamin C contributes to normal collagen formation for the normal function of blood vessels, bones, cartilage, gums, skin, and teeth. It's also a powerful antioxidant that helps improve nervous, psychological, and immune system functions.
4) Poor lifestyle choices
Sleep deprivation impairs collagen production and affects skin integrity (16). It can also increase your risk for various health problems, such as cardiovascular disease, hypertension, metabolic syndrome, type 2 diabetes, and more (17). Make sure you get your 'beauty sleep' every night – your skin will thank you for it!
Additionally, smoking can also cause problems with collagen production. You see it in many long-time smokers – the deep wrinkles, poor skin tone, bad teeth and gums – all making them look much older than their years (18). This isn't surprising at all since smoking can decrease collagen synthesis and affect the balance of the extracellular matrix (19).
Final words
Knowing the right amount of collagen powder to take per day can help stave off the inevitable signs of aging. Follow the tips we've shared in this article to ensure you look good inside and outside even as you grow older!