SHIELD Immunity Booster Benefits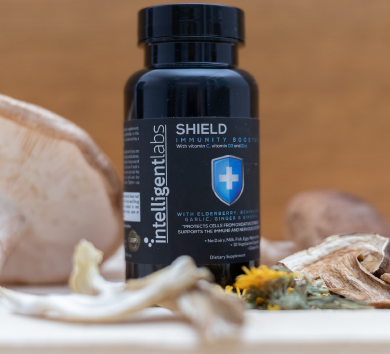 Powerful immunity booster*
A weak immune system means being susceptible to infection and disease.
By eating a healthy diet, living a healthy lifestyle, and supplementing with SHIELD, you'll have a fighting chance against viruses, bacteria, and other pathogens.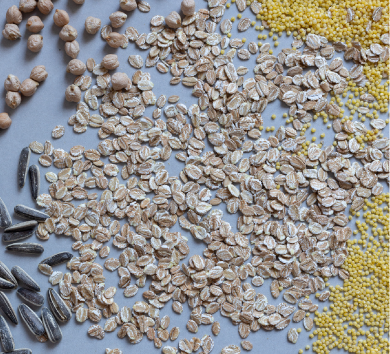 Suits a healthy lifestyle
Shield is packed with 100% natural ingredients. It's designed to support a healthy diet + a moderately active lifestyle.
One capsule a day – that's all you need to get proper immune health support!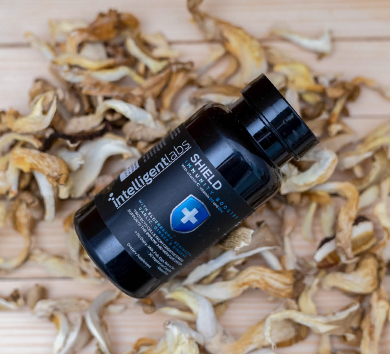 Our proprietary blend of 12 immunity-boosting herbs is designed to achieve results.
This powerful mixture of nutrient-dense ingredients helps neutralize free radicals and protect cells from oxidative damage.

100% Premium Ingredients
Vitamins C & D3, Zinc, plus our 12-herb immunity boosting blend.

30 Vegetarian Capsules
Take 1 capsule a day for immune health support. Good for 30 servings.

Quality Control
Manufactured at an NSF GMP-certified facility in the United States.

Money Back Guarantee
If you don't love our SHIELD Immunity Booster, simply return it for a full refund.
Why Should I Take SHIELD Immunity Booster?
SHIELD is formulated specifically to boost the immune system and protect you against harmful bacteria, viruses, germs, and other pathogens.
Each capsule of SHIELD contains the following immunity-boosting ingredients:
+ Vitamin C, D3, and Zinc for immune health
+ Proprietary blend of 12 special herbs for overall wellness
For best results, take SHIELD every day along with a healthy diet and regular exercise.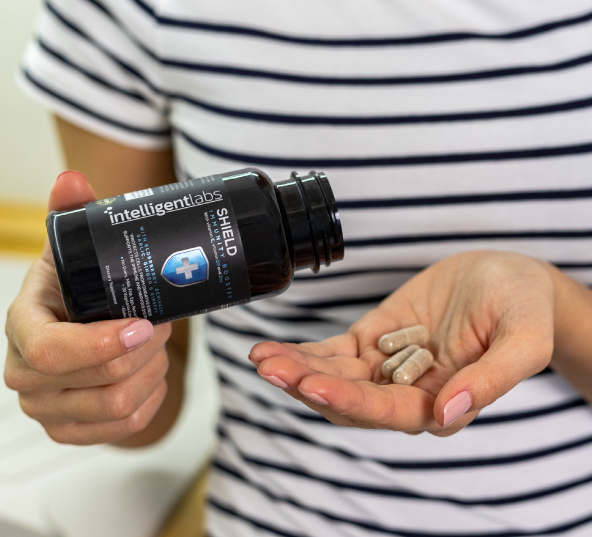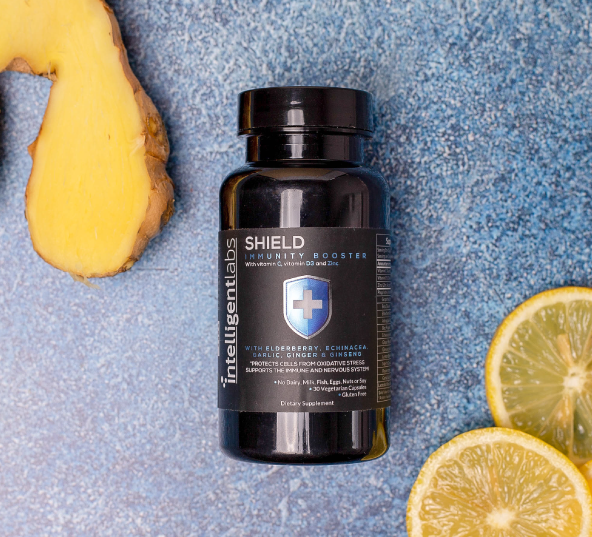 Vitamin C
When it comes to immune system vitamins, Vitamin C is at the top of the list.
It's a powerful antioxidant that helps protect cells from oxidative stress.
It aids in the normal function of both immune and nervous systems.
Additionally, it also contributes to normal psychological function, energy-yielding metabolism, and the normal collagen formation of blood vessels, bones, cartilage, gums, skin, and teeth.
Zinc
Just like Vitamin C, Zinc also protects cells from oxidative stress and contributes to the normal function of the immune system.
It also plays a key role in protein and DNA synthesis, and the metabolism of carbohydrates, macronutrients, fatty acids, vitamin A, and acid-base metabolism.
Zinc also helps maintain the following: bones, hair, nails, skin, testosterone, and normal vision.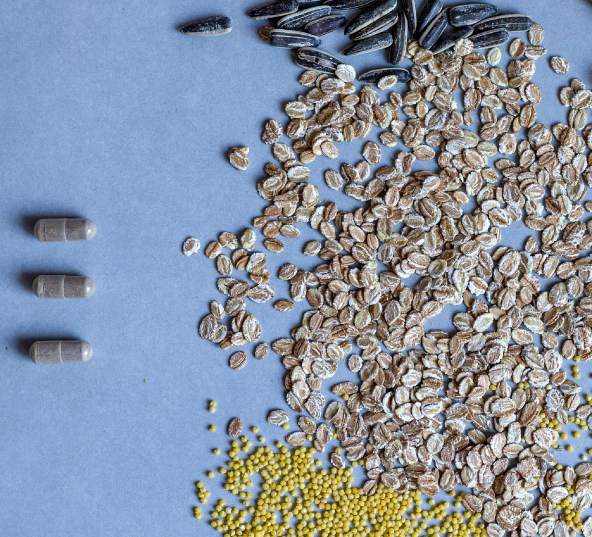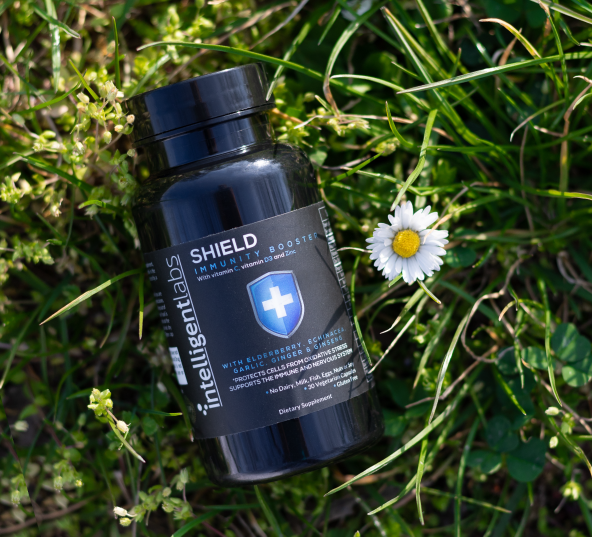 Vitamin D3
Vitamin D3 is just as important as Vitamin C and Zinc when it comes to boosting the immune system.
It's known as the 'sunshine vitamin' because your body can make Vitamin D3 if sufficiently exposed to the sun's UVB rays.
Vitamin D contributes to the normal development of teeth and bones. It also reduces the risk of catching the flu and suffering from heart disease.
Proprietary Immune Blend
12 special herbs were selected for their anti-inflammatory, antioxidant, antiseptic, and immunity-boosting properties.
These herbs have a long history of medicinal use since ancient times, especially in Ayurvedic and Chinese traditional medicine.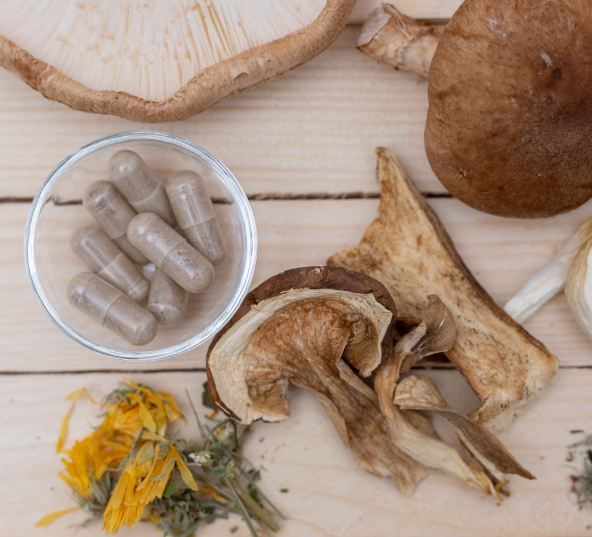 At Intelligent Labs, we use high quality ingredients to make the best immune system supplement on the market! We don't use fillers, artificial flavors, additives or preservatives on any of our health products. SHIELD Immunity Booster is manufactured at an NSF GMP-certified facility in the United States.












NO CHEMICAL PRESERVATIVES
Serving size: 1 Capsule
Servings per Container: 30
Ingredients per serving: 125mg Vitamin C (Ascorbic Acid), 40mcg Vitamin D3 (Cholecalciferol), 11mg Zinc (Zinc Acetate), 520mg of our Proprietary Immune Blend (Grapefruit Seed Extract, Beta Glucan, Elderberry Fruit, Astragalus Root, Bee Propolis, Echinacea Herb Extract, Ginger Root Extract, Ginseng Root Extract, Lemon Balm, Myrrh Gum, Resveratrol, Garlic Bulb)
Other ingredients: Cellulose Capsule Shell, Stearic Acid, Silicon Dioxide, Microcrystalline Cellulose
THIS PRODUCT CONTAINS NO: Animal Derivatives, Magnesium Stearate, Artificial Flavors, Preservatives, Gluten, GMO
CAUTION: Consult your physician if you are taking medications, or have any medical condition.
Keep out of reach of children. Do not use if seal is damaged or missing. Please do not eat the enclosed packet. Store in a cool and dry place. Avoid excessive heat. Tighten cap when not in use.
FREQUENTLY ASKED
QUESTIONS
How can I maximize the benefits of SHIELD?
SHIELD Immunity Booster is a food supplement. It's meant to supplement a healthy diet and a moderately active lifestyle. This means eating healthy foods, exercising, avoiding too much stress and getting enough rest. This also means cutting down on unhealthy vices like smoking, drinking alcohol, and doing drugs. Doing anything that poses a risk to your health will negate the benefits you get from taking SHIELD.
When is the best time to take a capsule?
As a dietary supplement, it's best to take one capsule per day before a meal (preferably breakfast). Alternatively, if you don't eat breakfast for whatever reason, then you may take a capsule right before your first meal.
Is it necessary to consult with a doctor prior to taking SHIELD?
It's important to consult with a doctor before taking SHIELD immune system supplements. You may have no need for a supplement if you're getting enough vitamins and minerals from your diet.
Anything else you'd like to know about SHIELD?
We love hearing from our customers. Please do contact us and we'll get right back to you!
Is it safe to take long term?
If you get approval from your doctor, then yes, it's safe to take SHIELD immune system vitamins long-term. The longer you take this supplement, the more effective it becomes at boosting and improving your immunity.

These statements have not been evaluated by the Food and Drug Administration. This product is not intended to diagnose, treat, cure, or prevent any disease