If there's one thing the recent pandemic taught us, it's that good immune health is important. But it's impossible to totally avoid disease-causing pathogens – they are everywhere!
We've got good news, though! There is a way to help you get a fighting chance against these bad microorganisms.*
Introducing our new immunity-boosting and antioxidant-rich supplement – Intelligent Labs Liposomal Vitamin C!
Each veggie capsule contains 500mg of ready-to-absorb vitamin C. Taking just one capsule is equivalent to eating:
1000g of lemons (approx. 530mg of vitamin C)
900g of strawberries or oranges (approx. 530mg of vitamin C)
600g of Brussels sprouts (approx. 510mg of vitamin C)
We recommend taking 2 capsules (1,000mg) daily, so you're ready to face the day and slay all the bad microbes that may come your way.*
Every bottle contains 180 veggie capsules. This will help cover your daily vitamin C needs for up to 3-6 months.
The Liposomal Vitamin C advantage
The body poorly absorbs ordinary vitamin C, aka ascorbic acid. So, we came up with a clever liposome formulation to aid absorption.
Our special liposomes feature two plant-based ingredients – Coconut Oil Powder and Sunflower Seed Lecithin.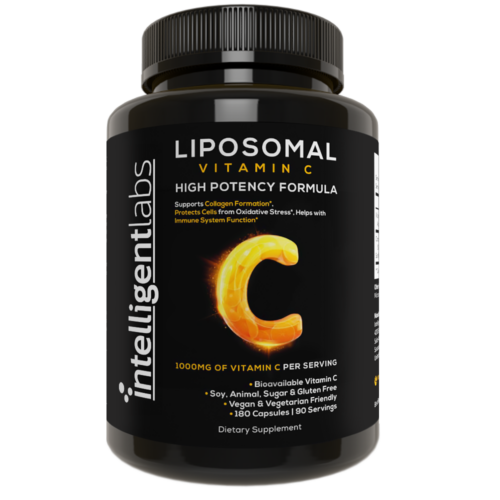 They help transform water-soluble ascorbic acid into a fat-soluble version, thus promoting better absorption. This formula works because every cell membrane in the body has a lipid (fat) layer.
Also, vitamin C is naturally fragile and quickly spoils when exposed to heat, light, and air. Fortunately, our phospholipid formulation protects vitamin C from oxidation and improves stability, too.
Moreover, this nutrient is highly acidic. Taking large doses isn't advisable as it can cause stomach upset, acid reflux, nausea, and heartburn. Inserting ascorbic acid within our soy-free liposomes may help protect the stomach lining and reduce the risk of gastric discomfort.
Get your daily Vitamin C from a trusted brand!
Taking Liposomal Vitamin C may help you enjoy this nutrient's proven health benefits. This includes:
Round-the-clock immune health support.*
Active lifestyle support by reducing fatigue and boosting energy levels.*
May also give you healthier skin and hair since it helps with collagen formation.*
Better mood and cognitive performance.*
May also help absorb plant-based iron to help maintain healthy blood, which is perfect for vegans and vegetarians.*
Want to know more about the differences between ordinary vitamin C and Liposomal Vitamin C? Read our Ultimate Guide to Liposomal Vitamin C supplements.
We use high-quality ingredients to make the best supplement for immune support. It's important to keep our Liposomal Vitamin C as pure as possible. So, we made sure to use zero artificial ingredients, flavors, preservatives, colors, and binders. For extra quality assurance, we also make this product at an NSF GMP-certified facility in the United States.
What are you waiting for? Start the year right and get an extra layer of protection with Liposomal Vitamin C!
*These statements have not been evaluated by the FDA. This product is not intended to diagnose, treat, cure, or prevent any disease